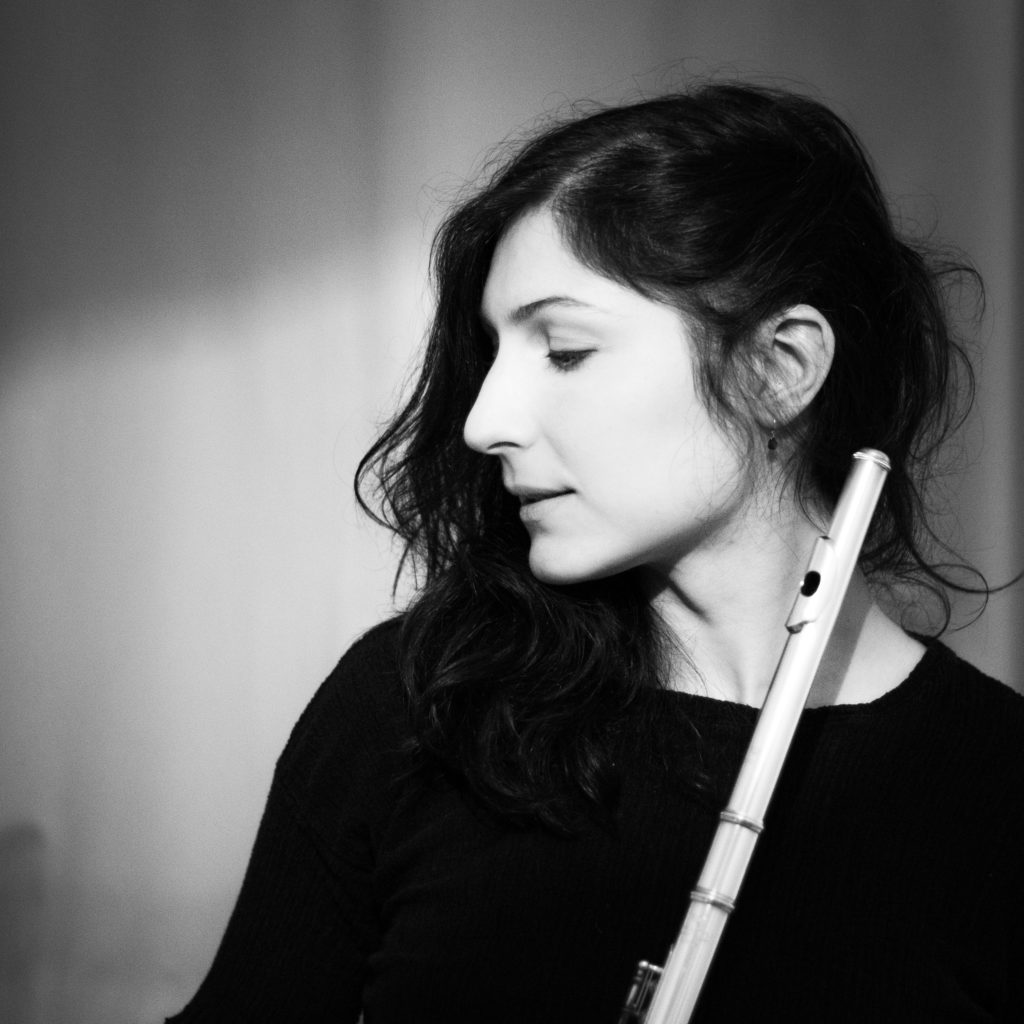 Irène Blanc is a flute teacher based in Paris.
Holder of the state diploma (Diplôme d'État), she currently teaches at the departmental conservatories of Mantes-la-Jolie and Argenteuil.
She has studied the flute at the Conservatory with the two soloists Michel Rousseau and Philippe Pierlot. She has also been initiated to contemporary repertoires, with the Court-Circuit ensemble in chamber music, and in solo and mixed music works with the specialist François Veilhan. Always in the research of opening her work to new sounds and timbres, she has experimented generative improvisation in the Alexandros Markeas' workshops at the National Conservatory of Paris, and is also studying the baroque flute with professor Valérie Balssa at the conservatory of Bouogne-Billancourt.
Her desire to expand her contemporary instrumental practice to composition has led her to the validation of a Master's degree in Sound creation co-directed by the University of Paris-Est, Ircam and the electroacoustic research center La Muse en Circuit.
In addition to her pedagogical activity and her instrumental and electronic concerts, she has worked on the development of numerous projects linked to the new repertoires : with the contemporary ensembles Aleph and Nomos, the contemporary festival D'aujourd'hui à demain, on a European project with the Music, Technology and Innovation laboratory of the De Montfort University of Leicester, England, and as an assistant of composition and design for the composer Januibe Tejera.
Irène Blanc tends to develop in her creations a research based on phrasing and expressivity, which she inherits both from her classical background, her analysis of the repertoires she has worked with, and finally from the relation to time that she maintains with different artistic mediums, wether it be visual arts or temporal arts.
In this dynamic, she is notably leading some projects based on voice, in collaboration with Michel Vinaver for an audio book of poetry, an audiovisual work with the director Tommaso Usberti, in a series of sound creations with the actor Maurizio Campani, or on the occasion of a sound editing contest organised by the Philharmonie de Paris, of which she is laureate.
This research about the connections between verbal and musical languages finally takes the form of practical ateliers for disabled people, which she makes at the ESAT/CAJ of Ménilmontant, Paris.
ireneblanc.rocher@gmail.com